Mt. Rainier
July 15-17, 2006
with Mark Slipp
We started the trip Friday — drove to White River CG and spent the night. Saturday morning I discovered that I'd left my food bag on my kitchen table. We drove to Enumclaw, had breakfast and bought supplies. Then drove back to White River CG, parked road-side (parking lot was full then), and hiked into Glacier Basin. Mosquitoes weren't as bad as we'd expected, but there were also some nasty gnats of some kind unknown.
Got a mid-morning start Sunday & hiked up the Inter Glacier to Camp Curtis (two marked campsites), then scrambled down a steep, rocky bank onto the Emmons, and swung wide around edge crevasses up to Camp Schurman.
Mark and I got started about a quarter to one Monday morning, and were up to the rim (14,200') in less than seven hours. The wind was too much, so after a brief try, we abandoned going to the true summit, and were back to Camp Schurman by 10:30 a.m. We were both pretty wasted, but after resting for a while we packed up and left at about 1:30, and were back to the car before 5 p.m. I was home just before midnight — making for a very long day.
This is a rather poor offering I'm afraid. I regret not getting good pics of the "Jumble" on the Winthrop (ice cubes the size of buildings) and closeups of some of the big crevasses high on the Emmons. Spent too much time just gawking. And when climbing/descending there just wasn't much opportunity. It's hard to get scale into them. Little Tahoma is almost as tall as Hood — more than 3000' shorter than Rainier. The false summit on this route is really nasty — you're exhausted when you reach it and it looks like you've got a major mountain left to climb yet. . . though it's probably not more than 1000'.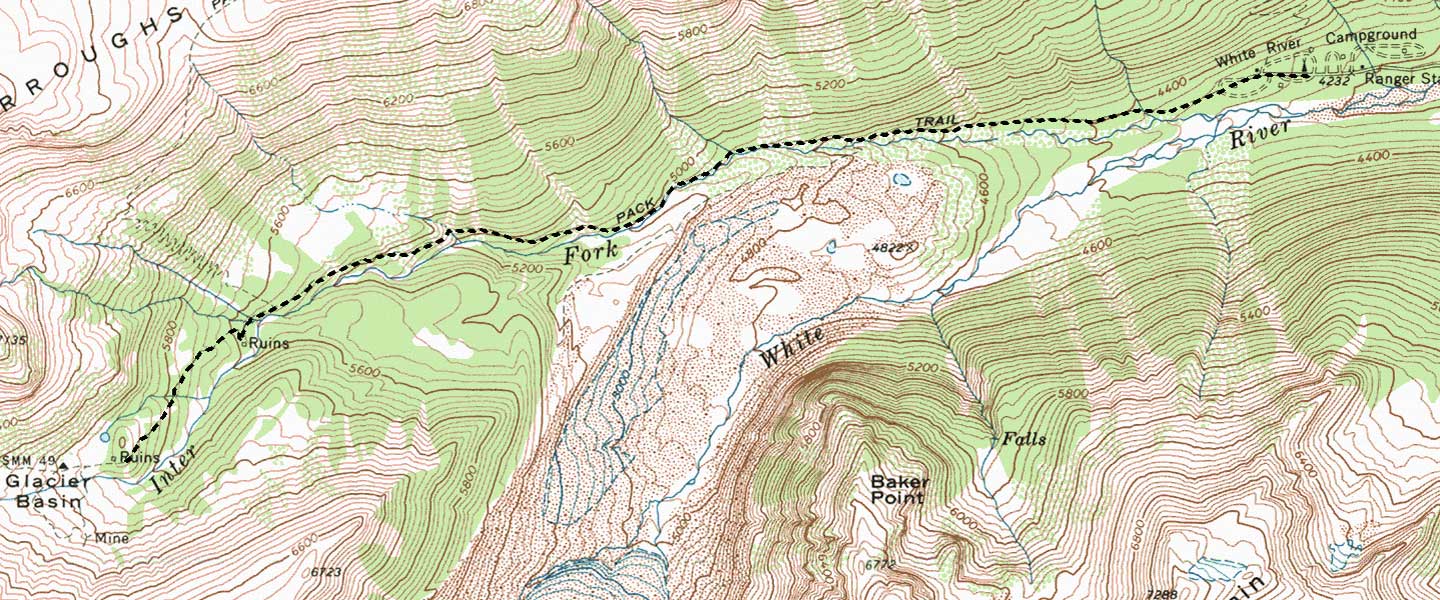 Hike to Glacier Basin (click on image for full size version)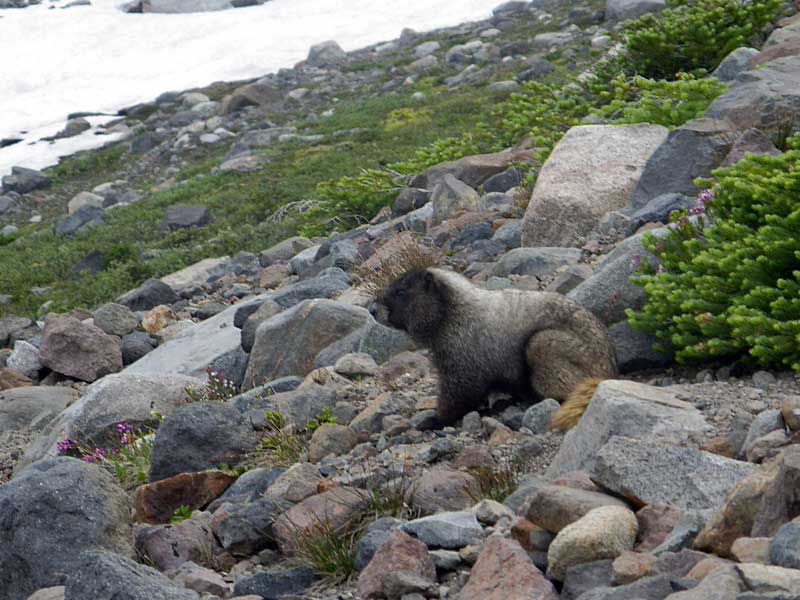 Hungry critter in Glacier Basin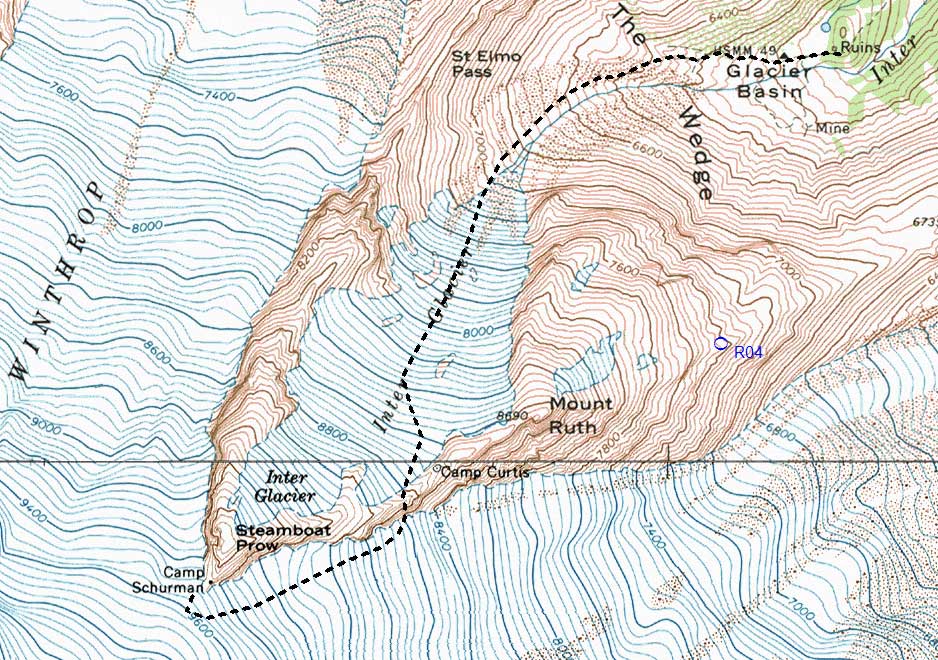 Approximate route of hike to Camp Schurman (click on image for full size version)

The Inter Glacier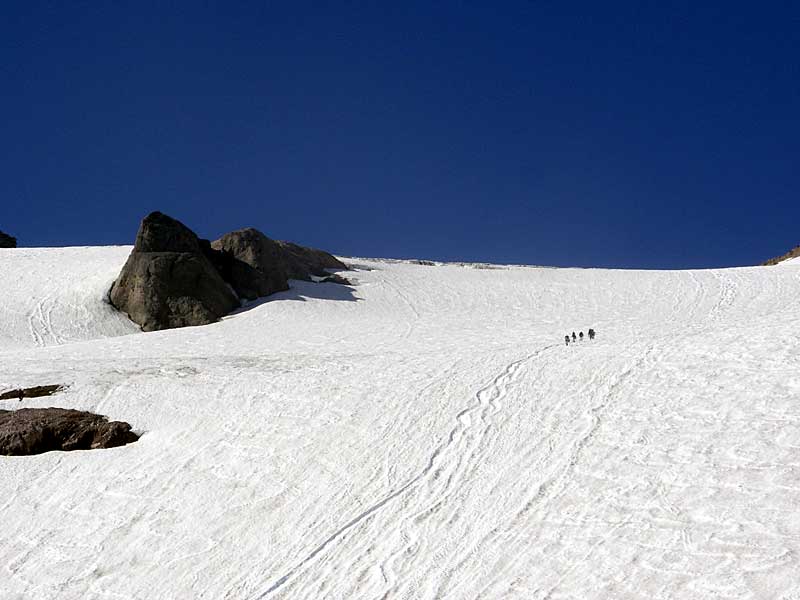 Climbers on the Inter Glacier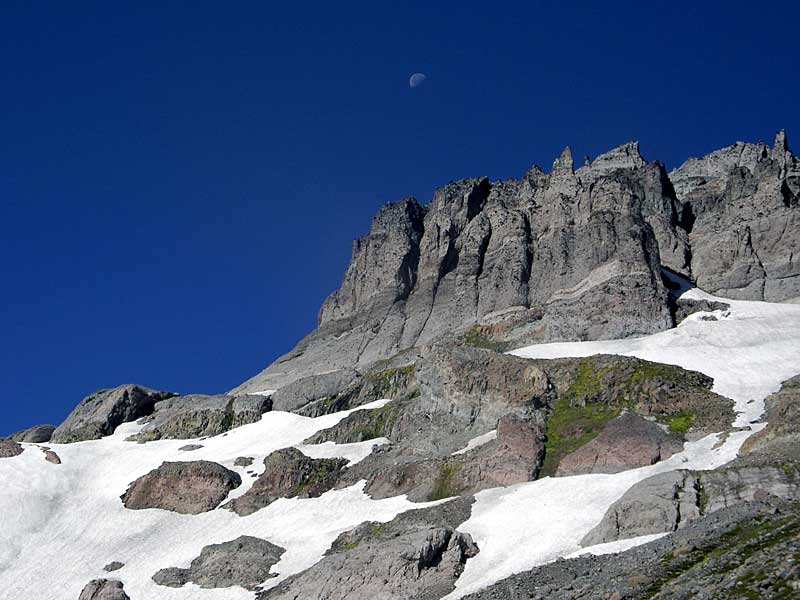 Ridge between the Inter and the Winthrop glaciers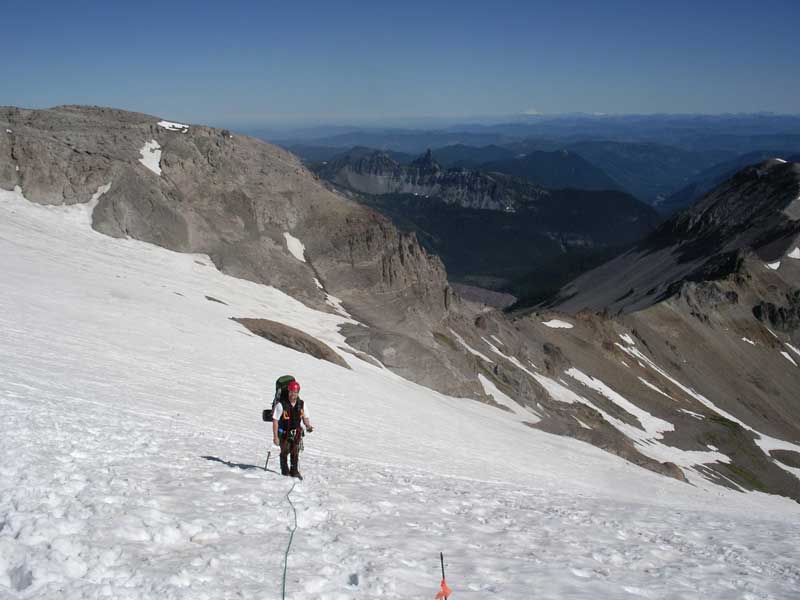 St. Elmo Pass from the Inter Glacier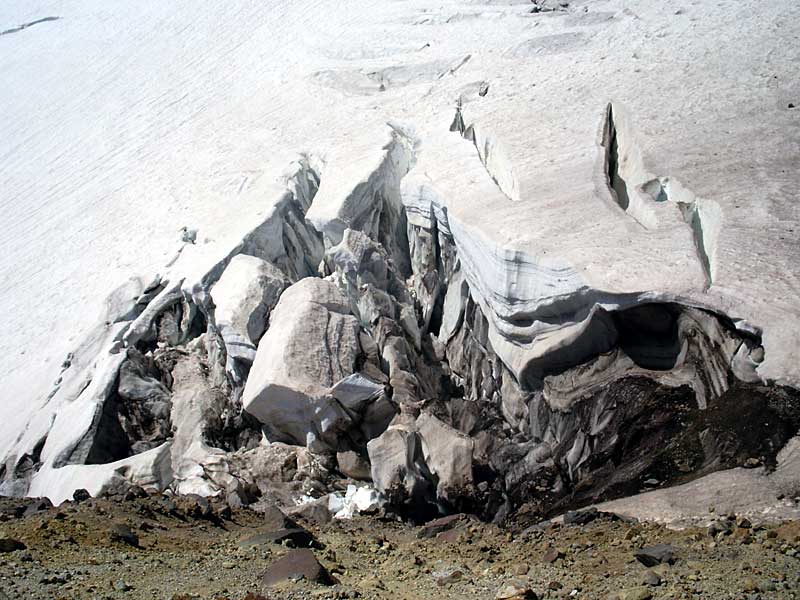 Edge crevasse by the trail from Camp Curtis down onto the Emmons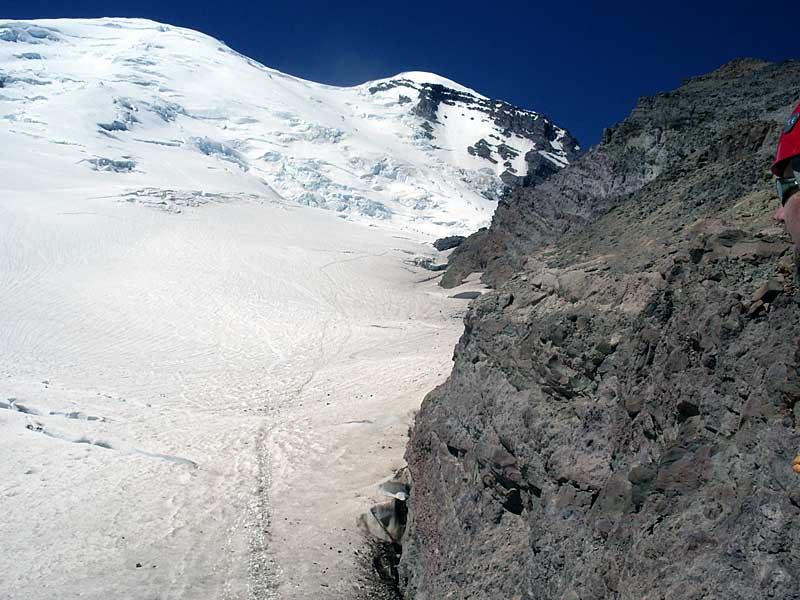 Track on the Emmons from Camp Curtis to Camp Schurman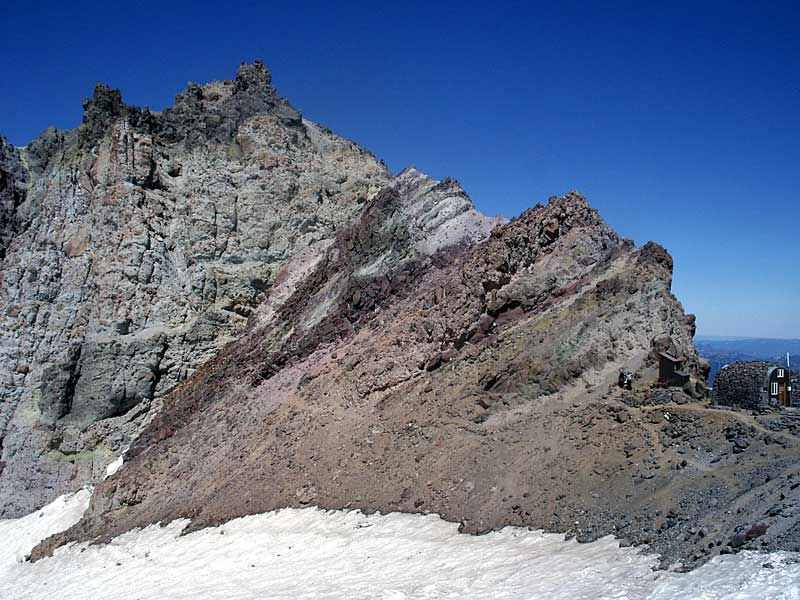 Camp Schurman below Steamboat Prow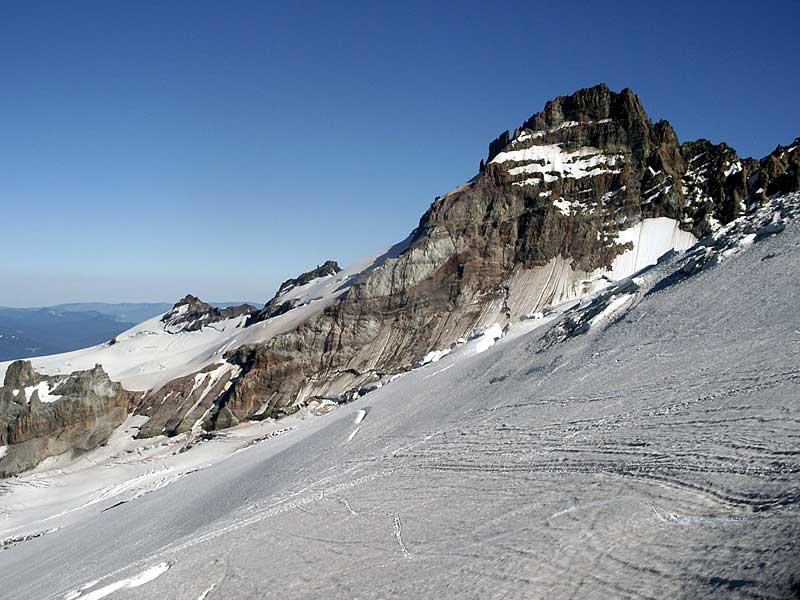 K Spire, the Fryingpan and Little Tahoma across the Emmons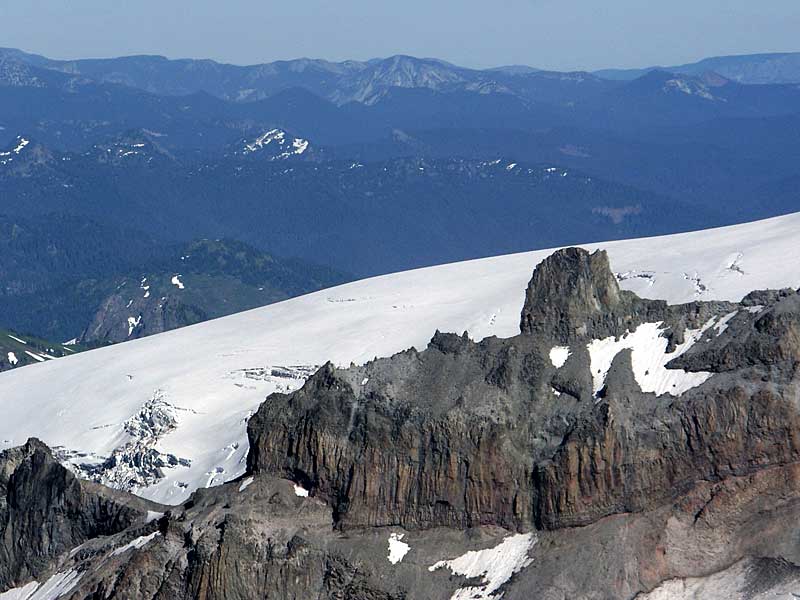 K Spire against the Fryingpan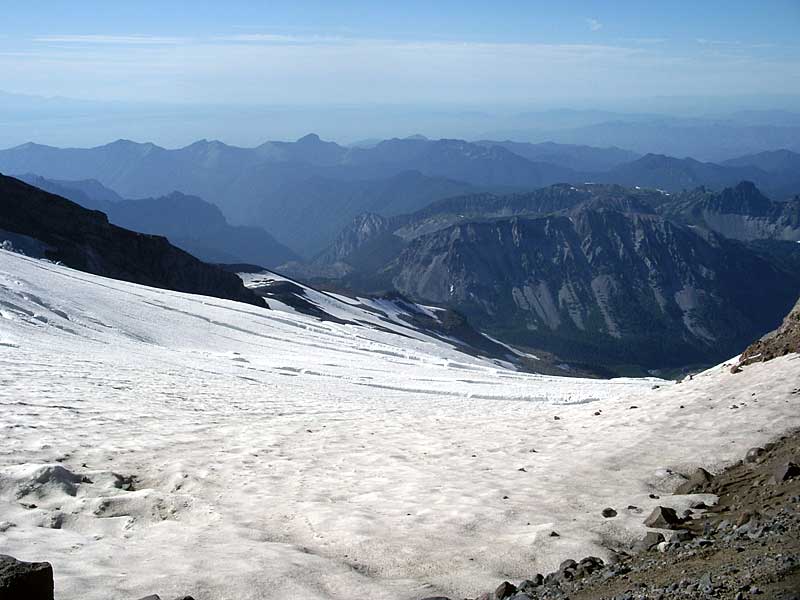 Lower part of the Winthrop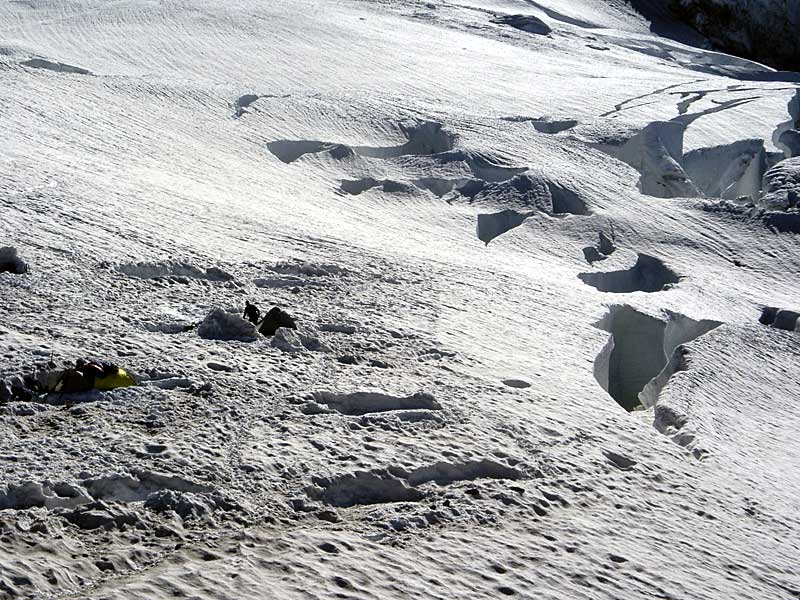 Mark at our campsite on the Winthrop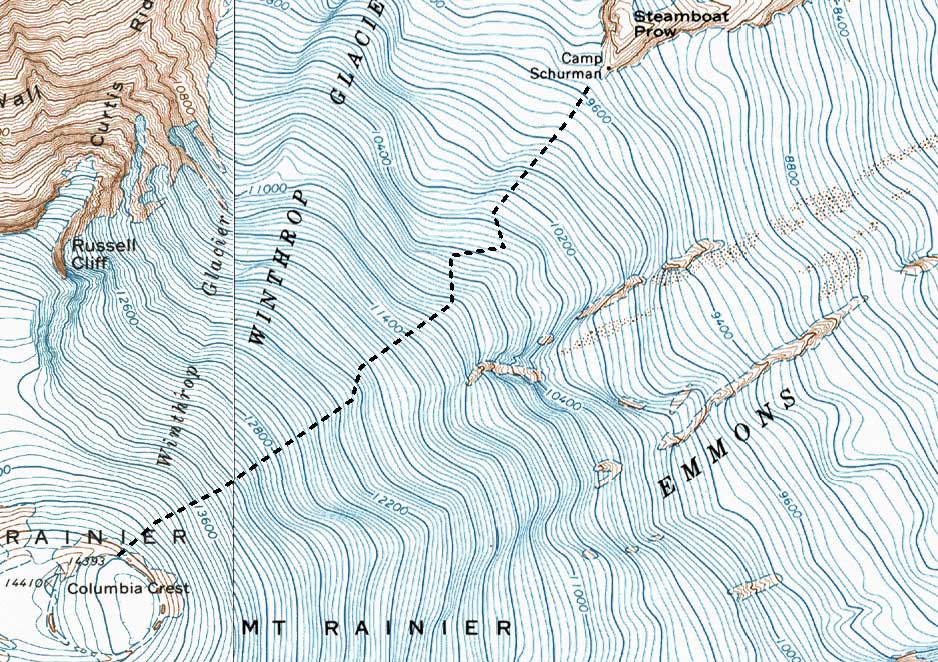 Approximate route of climb to rim (click on image for full size version)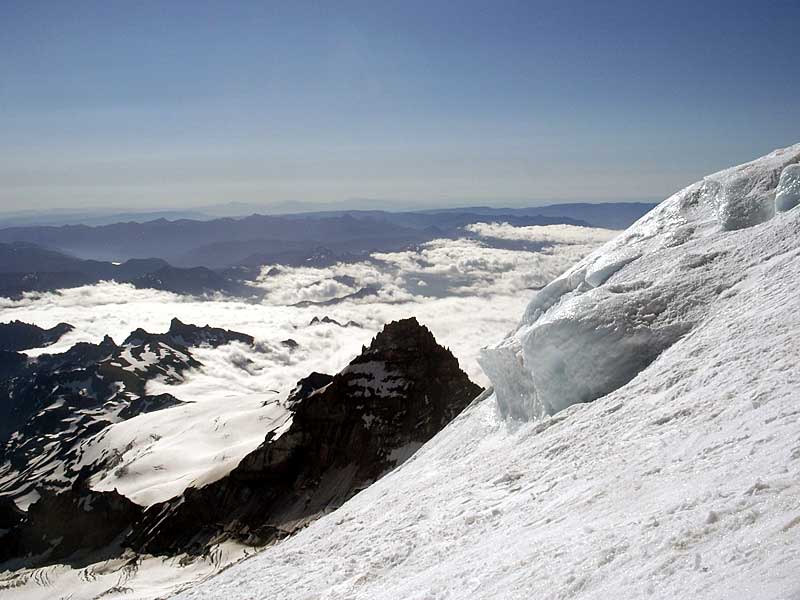 Looking down on Little Tahoma
Last modified: July 20, 2006